The Tropical Hurricane Season 2019 in the Caribbean and Dominican Republic
The 2019 Tropical Hurricane Season officially started in the Atlantic Ocean on June 1st 2019 and will end on November 30th 2019, according to the World Meteorological Organization.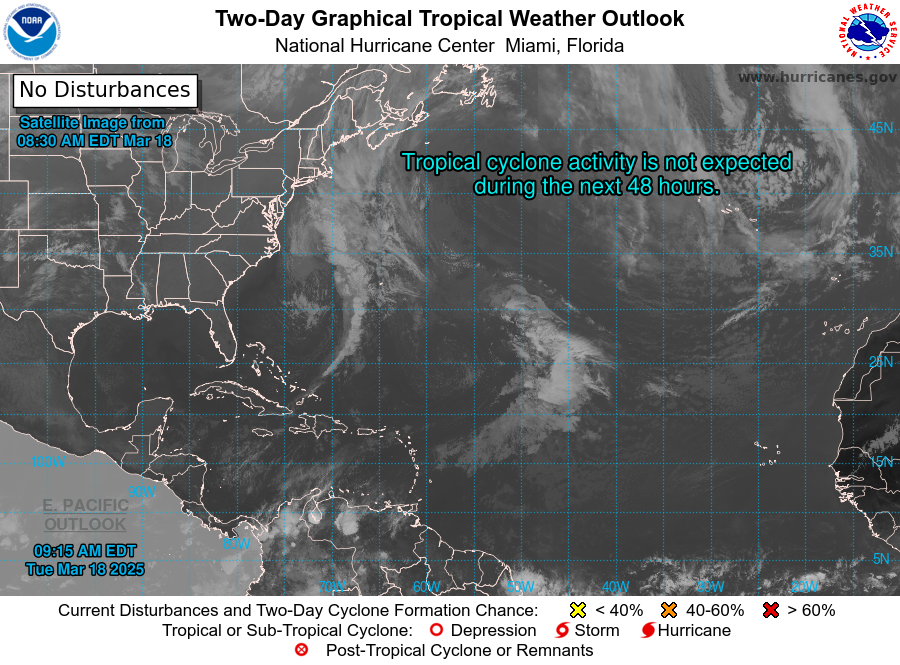 This satellite picture is provided by noaa.com (www.noaa.com)
Last update on 06.01.19 at 08:00a.m.
---
Low pressure
A broad area of low pressure located over the southern Bay of Campeche is producing disorganized showers and thunderstorms.
The low is forecast to move westward to west-northwestward across the southern Bay of Campeche toward the east coast of Mexico during the next few days. If the system remains over water, a tropical depression could form before it moves inland early next week.
Regardless of development, the disturbance will likely produce heavy rainfall over portions of southern and southeastern Mexico during the next few days.
Formation chance through 48 hours, medium, 40 percent
Formation chance through 5 days, medium, 50 percent.
Sector Dominican Republic and Porto Rico
This satellite animation is offered by noaa.com (www.noaa.com)
Sector Caribbean, Atlantic and Central America
This satellite animation is offered by Accuweather.com (www.accuweather.com)
Sector Caribbean Visible Satellite Image
This satellite animation is offered by noaa.com (www.noaa.com)
Sector Caribbean Infrared Satellite Image
This satellite animation is offered by noaa.com (www.noaa.com)
Sector Caribbean Water Vapor Satellite Image

This satellite picture is provided by weatherphotos.com (www.weatherphotos.com)
Hurricane's Boulevard

This satellite picture is provided by noaa.com (www.noaa.com)

This satellite picture is provided by noaa.com (www.noaa.com)

This satellite picture is provided by noaa.com (www.noaa.com)
Current Sea Surface Temperature Analysis

This satellite picture is provided by noaa.com (www.noaa.com)
2018 Storms Archive

This satellite picture is provided by wunderground.com (www.wunderground.com)
2019 Storms Archive

This satellite picture is provided by wunderground.com (www.wunderground.com)