The tropical hurricane season 2014 in the Caribbean and Dominican Republic
The 2014 tropical hurricane season officially started in the Atlantic Ocean on June 1st 2014 and will end on November 30th 2014, according to the World Meteorological Organization.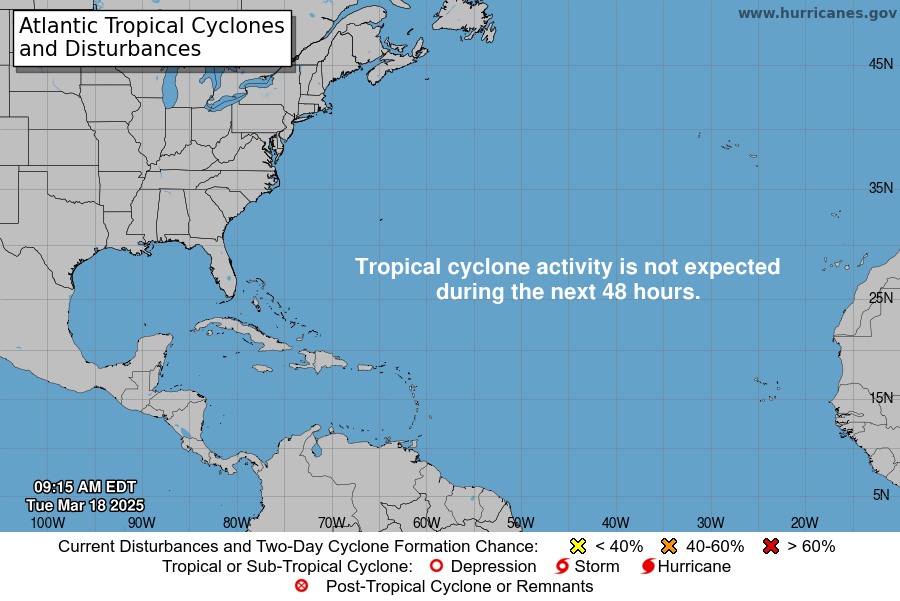 This satellite picture is provided by noaa.com (www.noaa.com)
Last update on 08.02.14 - 11.00 a.m.
---
Tropical Storm Bertha
At 1100 am AST, 1500 UTC, the center of Tropical Storm Bertha was located near latitude 17.2 north, longitude 66.7 west. Bertha is moving toward the west-northwest near 22 mph, 35 km/h.
A turn toward the northwest is expected by tonight, with this motion continuing through Sunday night.
On the forecast track, the center of Bertha should pass near Puerto Rico today, near or over the eastern portion of the Dominican Republic tonight and near or over the southeastern Bahamas and Turks and Caicos Islands on Sunday.
Maximum sustained winds are near 50 mph, 85 km/h, with higher gusts. Little change in strength is expected through Sunday. Slow strengthening is possible Sunday night and Monday.
Tropical storm force winds extend outward up to 105 miles, 165 km mainly to the northeast of the center.
Watches and warnings
The government of the Dominican Republic has issued a Tropical Storm Warning for the eastern Dominican Republic from Cabo Frances Viejo to Isla Saona.
The government of France has discontinued the Tropical Storm Warning for Martinique.
Summary of watches and warnings in effect
A Tropical Storm Warning is in effect for :
Puerto Rico
Vieques
Culebra
U.S. Virgin Islands
British Virgin Islands
The eastern Dominican Republic from Cabo Frances Viejo to Isla Saona
The southeastern Bahamas, including the Acklins, Crooked Island, Long Cay, the Inaguas, Mayaguana and the Ragged Islands
The Turks and Caicos Islands
A tropical storm watch is in effect for :
Central Bahamas, including Cat Island, the Exumas, Long Island, Rum Cay and San Salvador

This satellite animation is provided by Wunderground.com (www.wunderground.com)

This satellite animation is provided by Wunderground.com (www.wunderground.com)

This satellite animation is provided by Wunderground.com (www.wunderground.com)

This satellite animation is provided by Wunderground.com (www.wunderground.com)
Sector Atlantic and Central America
This satellite animation is offered by AccuWeather.com (www.accuweather.com)
Sector Caribbean, Atlantic and Central America

This satellite animation is provided by Wunderground.com (www.wunderground.com)

This satellite picture is provided by weatherphotos.com (www.weatherphotos.com)
Hurricane's Boulevard

This satellite picture is provided by noaa.com (www.noaa.com)

This satellite picture is provided by noaa.com (www.noaa.com)

This satellite picture is provided by noaa.com (www.noaa.com)
Current Sea Surface Temperature Analysis

This satellite picture is provided by hamweather.net (www.hamweather.net)
2014 Storms Archive

This satellite picture is provided by wunderground.com (www.wunderground.com)
2013 Storms Archive

This satellite picture is provided by wunderground.com (www.wunderground.com)