The tropical hurricane season 2014 in the Caribbean and Dominican Republic
The 2014 tropical hurricane season officially started in the Atlantic Ocean on June 1st 2014 and will end on November 30th 2014, according to the World Meteorological Organization.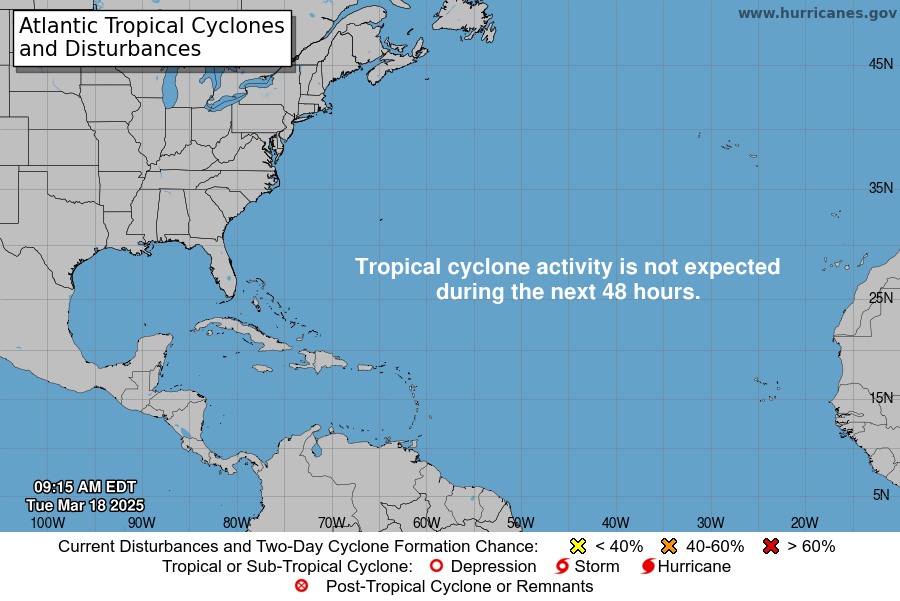 This satellite picture is provided by noaa.com (www.noaa.com)
Last update on 07.22.14 - 11.00 a.m.
---
Tropical Depression Two
At 1100 am AST, 1500 UTC, the center of Tropical Depression Two was located near latitude 12.6 north, longitude 48.0 west.
The depression is moving toward the west near 17 mph, 28 km/h, and this general motion is expected to continue for the next couple of days.
Maximum sustained winds are near 35 mph, 55 km/h, with higher gusts.
Little change in strength is expected through tomorrow, but the depression is expected to weaken to a remnant low Wednesday night and degenerate into a trough of low pressure on Thursday.
The estimated minimum central pressure is 1012 mb, 29.89 inches.

This satellite animation is provided by Wunderground.com (www.wunderground.com)

This satellite animation is provided by Wunderground.com (www.wunderground.com)

This satellite animation is provided by Wunderground.com (www.wunderground.com)
Sector Atlantic and Central America
This satellite animation is offered by AccuWeather.com (www.accuweather.com)
Sector Caribbean, Atlantic and Central America

This satellite animation is provided by Wunderground.com (www.wunderground.com)

This satellite picture is provided by weatherphotos.com (www.weatherphotos.com)
Hurricane's Boulevard

This satellite picture is provided by noaa.com (www.noaa.com)

This satellite picture is provided by noaa.com (www.noaa.com)

This satellite picture is provided by noaa.com (www.noaa.com)
Current Sea Surface Temperature Analysis

This satellite picture is provided by hamweather.net (www.hamweather.net)
2014 Storms Archive

This satellite picture is provided by wunderground.com (www.wunderground.com)
2013 Storms Archive

This satellite picture is provided by wunderground.com (www.wunderground.com)